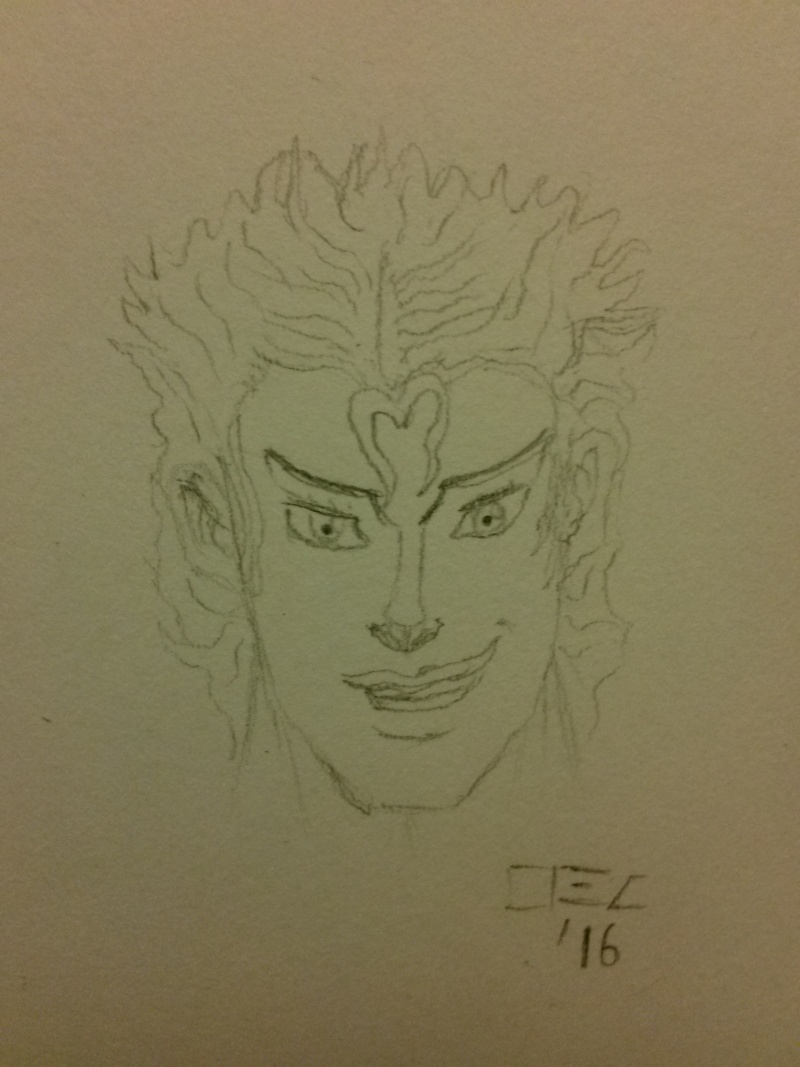 BasicsName(s):
Hadrian Neanana, "Black"
Alignment:
Lawful Evil
Jedi, Sith, or NFS:
Sith
Profession:
Justice
Desired Rank:
Dark Adept
Species:
1/2 Human, 1/2 Arkanian Offshoot
Gender:
Male
Height:
1.75 meters
Weight:
74 kg
Age:
26
Eyes:
Emerald Green, despite his descent.
Hair:
White
Defining Characteristics:
Hadrian is almost too charming. While his hair is of medium-short length, it only ever has a few stray bits ever covering his face. An expression of confidence is almost cemented on his face along with an alluring smile that appeals to the masses. It helps that his body is that of a ladykiller's, too. Almost by design.
As if a betrayal of his supreme charm, Hadrian considers his true beauty to be what is in place of his right arm. It is a cybernetic arm with actual flesh grown and grafted onto it. The arm is one of his main projects toward attaining the power he needs to bring justice to the galaxy, and it is nearly always covered unless charm is not necessary for the situation.
He treats every set of instructions as loose guidelines rather than absolute tenets. Only his view of justice is unwavering.
Description:
A pale man who wears a mask of confidence and a smile to melt through any wall of trepidation. Medium-short hair is kept flowing backwards, a few strands permitted to mask and border a face with allure of such a caliber that it may as well be by design. Trends are followed religiously, a blue cloak or tunic accompanying the latest dark fashions tucked into boots.  Emerald eyes pierce all they witness, searching, beckoning; they remain uncorrupted despite the darkness of the Force inside of him.
Bio:
Hadrian is, simply, the result of an Arkanian offshoot's experiment succeeding. That experiment involved producing quintuplets.
His childhood was esoteric at best. He and his siblings grew up with just their father in his isolated cavern system / laboratories. As a result, most entertainment was through holoreels, conducting experiments, or reading. Hadrian took an interest "researching" the concept of a hero protecting people and bringing justice to evil.
On one particular day, while he and one of his sisters, were exploring outside of the caves, tragedy struck. Some slavers attempted to take his sister, and he, embodying justice, tried to stop them. In the commotion, one of the slavers sliced off the then six-year-old's right arm off with a vibrosword. Hadrian's father, while attached to his experiments, had more affection for his children, and had gone out to look for them. He found them just as the slaver's deeds took his son's arm.
It was the next few moments that Hadrian learned a few particular things: what justice really is and that he had a connection to a power beyond science. That, and what certain species' entrails looked like.
[1]
His sister felt guilt, his father felt failure, but he felt anger. Anger that this could happen to anyone on such a beautiful day. Anger that this may happen elseware. Anger that there would not always be a protector full of fury to make sure someone would never do this again. But there was one important thing his father, the intelligent and free-thinking man he was, taught him: act like it is possible and you may just succeed.
When he felt the time was right, Hadrian ventured from his home and sought out ways to harness and improve his connection to both science and the Force whilst meting out justice. He often employed his charm as he took up bounties against fugitives with his alias "Black"; on two occasions he found his way into a position as a bodyguard against a tyrant who, unfortunately, died in a tragic accident. And who better to use as a lab rat to further his cybernetic research on than those who would experiment on the innocent?
While partially inspired by his sister he had protected, they are at odds: though he has become an instrument of vengeance for innocents wronged, she chose to become a guardian for the innocent and disapproves of meting out Hadrian's absolute justice. He believes that laws to discourage wrongdoings are simply band aids to a bigger problem only he has the vision and, soon, means to address.
[1] This lesson was learned after he had time later to reflect back on the situation, since the original moment was mostly, "PAIN. SO MUCH PAIN. I'M DYING. AGH." in his thoughts.
Extra Section WIP
Benchmarks:
Fighting Style:
Hadrian brings his confidence into a conflict, even if it is unwarranted. He
will
find a use for it in any conflict, but his real goal is to simply dispense absolute justice where it is needed. That being said, like any vigilant purveyor of justice, he will find an opponent's weakness and use it to land the killing blow. And if there is no known weakness? He will create one.
Agility:
He makes sure that his body remains limber and flexible for when he must close in. His enhanced arm is far more dangerous when wielding weapons, as it moves at such speeds that he relies on cybernetics and the Force simply to keep track of it.
Strength:
He is no weight lifter, but he makes sure he has enough oomph to make justice swift. His right arm is currently capable of bending durasteel, given the right grip and angle, even without the aid of the Force.
Endurance:
Hadrian takes efforts to keep himself in shape, if just to make sure just how his body appears still serves as a dangerous weapon on its own. He has taken time to bring himself dangerously close to death if just to keep himself in the right place at the right time to bring proper justice.
Sample Post:
Hadrian's smirk turned into a grin as he goaded the Barabel mercenary, easily twice his mass and composed of claws and teeth, into charging at him with one hand swinging at him in a wild haymaker. The human almost casually lifted his right hand and caught the lizard's fist in his palm, dead stop. A split second realization didn't even have time to register before Hadrian had twisted the hand into a lock that brought the giant mercenary to his knees, pinning him to the ground through instinctive pain compliance. Hadrian's left hand had produced a lightsaber, and brought it to the Barabel's face to let him know he should stop.
The Barabel growled in pain, frustration, and confusion.
"You must be wondering," Hadrian began, "Many things." He flicked his lightsaber and lopped off the mercenary's right arm just as it reached for a blaster. His cybernetic right hand tightened, and the lizard's left hand was crushed into bone, scale, and blood. A high pitched scream came from the mercenary's lungs, soon muffled by Hadrian's right hand smacking into his face and shoving him to the ground.
The human then proceeded to repeat the process, slamming the Barabel's head into the ground again and again until he lay still, and then some more for about 10 more seconds. There was plenty of mess and ruined samples of Barabel brain tissue to collect.
Hadrian stood, turning off his lightsaber and putting it away before producing a cloth to wipe the fluids off of his right hand. "So." His gaze went to a nearby woman, who was covered in bruises. He came to her side, producing a medical kit. His voice suddenly became compassionate, a sudden switch from the coldness of his earlier statements. "I want to make sure you are taken care of, okay? If you're in any condition to speak, I need to know who the mercenary worked for, so that I can make sure he never asks for something like this to be done again..."