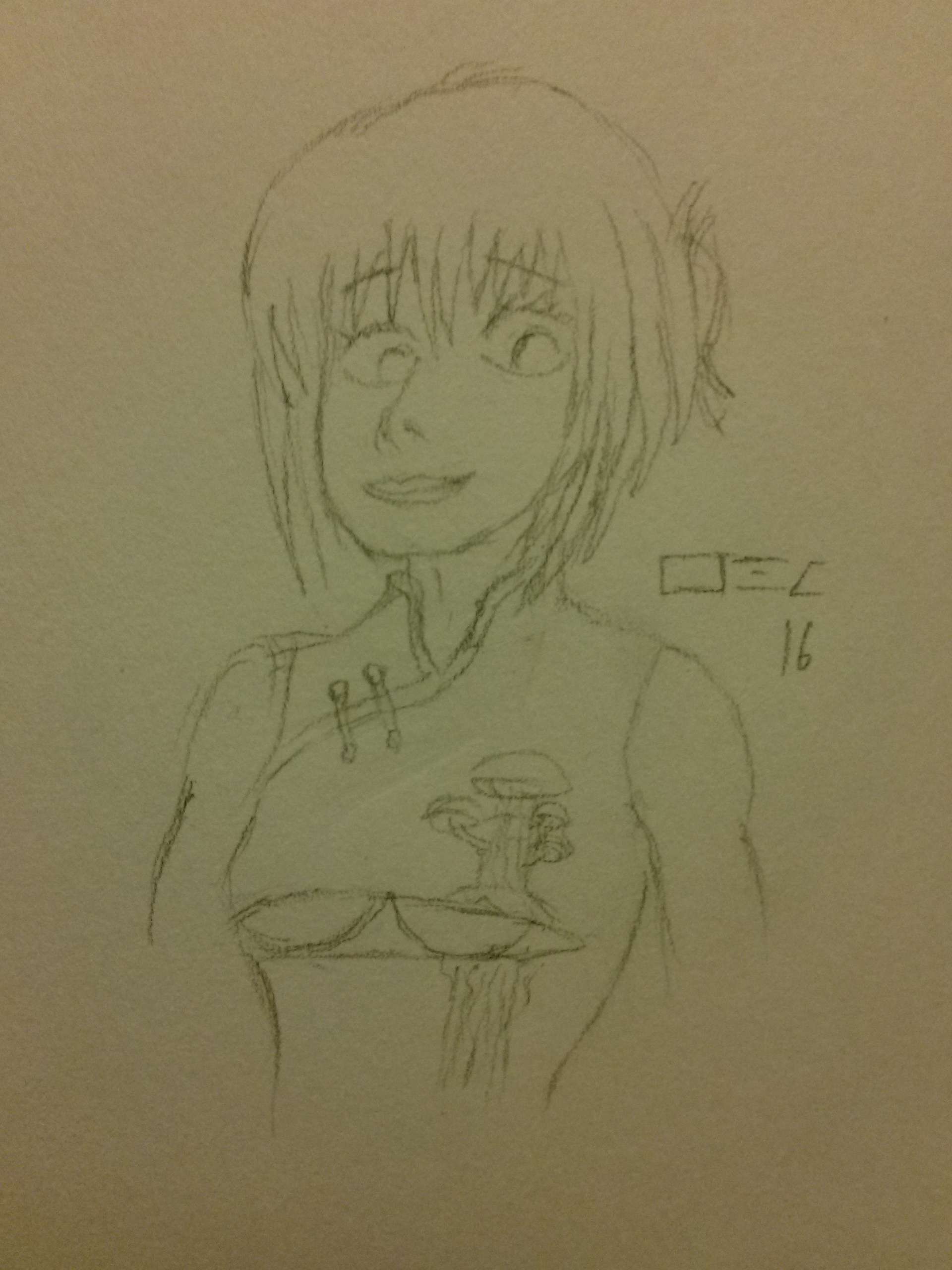 BasicsName:
Cerise
Alignment:
Chaotic Good
Jedi, Sith, or NFS:
Jedi
Profession:
Jedi Watchman
Desired Rank:
Senior Knight
Species:
Near Human
Gender:
Female
Height:
1.67 meters
Weight:
62 kg
Age:
26
Eyes:
Silver
Hair:
Platinum Blonde
Defining Characteristics:
Cerise likes to have fun. She is playful, bouncy, and hyperactive in nearly every waking moment. She lives to express herself and is borderline hedonistic. Yet she has still managed to employ the calm and center necessary to master the light side of the Force.
Cerise is sexy. She has never been modest, her attire a clear demonstration of this, and she flirts with nearly anyone if she likes them. And she likes a lot of people. This, combined with her enthusiasm for life, makes her remarkably personable.
Tact. When she was born, her tact was tossed into a black hole. While her personality helps her get along with a lot of people, she gets into a lot of trouble with those who are easily offended by her honest and frank way of speaking.
When it comes down to it, Cerise is actually quite motherly and dotes on younger members of the Order. You're screwed after you hit puberty, though.
Description:
A snow-white beauty carried herself with an immaculate demeanor. Platinum blonde hair was kept in a loose ponytail, her bangs allowed to grow just past pristine eyebrows. Dazzling silver eyes accompanied a kind, inviting smile bordered by plush lips. Straight locks bordering her face were grown just down to her neckline, cut in a manner inviting one to admire a flawless porcelain neck. A sleeveless green cheongsam with tree design invited no modesty, cut to reveal the underside of the projected portion of her chest. Ankle-length boots appeared more like flats to compliment her outfit.
Bio:
Cerise was a rambunctious teenager living on Zeltros when she was brought to the Order by Wilowchehuckt. As the traditionalists still considered her age and explosive personality to be a hindrance to training, the Wookiee put her under his own tutelage. In a few short years, she proved to be precocious and earned her place as a Jedi Knight.
Whether it was personal preference or upon the suggestion of senior members of the Order, she was sent out to be a Jedi Watchman. No one could stop her from including the Zeltros System in her jurisdiction.
Benchmarks:
Fighting Style:
Cerise employs an exotic weapon dancing method into her combat style, presenting a unique form that she adapts other form techniques into: she simultaneously wields a single hilt and a double-bladed lightsaber, occasionally letting go and rolling the hilts across different areas of her body to bedazzle, confuse, and counter her opponents.
Agility:
Cerise is a talented dancer. She shows off her body. This has made her graceful and well aware of her positioning at all times. It is especially important for her unique and dangerous fighting style.
Strength:
Her strength is akin to a gymnast: her body is built more for tone, dexterity, and flexibility.
Endurance:
What time do you need to get up in the morning, honey?
Rank:
Senior Knight (****)
Class:
Lightsaber Specialist
Saber(s):
Smooth electrum hilts with indented activation buttons: One is a single bladed lightsaber, the other is a longer double-bladed hilt.
Crystal Color:
Cyan for the single blade. Pink for the double-bladed.
Other weapons:
Mmmhmm.
Possessions:
An extensive wardrobe to fit her hedonistic deeds. It's for the good of the galaxy, you know.
Special Abilities:
Haven't I alluded to enough, hun? *sigh*
Fine.
Despite all appearances, Cerise actually has quite the scientific background even before her tutelage under Wilowchehuckt. She is familiar with many chemical and biological functions and is capable of discerning useful bits of information out of tissue or chemical samples.
Padawan(s)/Apprentices:Lightsaber Forms:
Form I: Shii-Cho - Master
Form II: Makashi - Master
Form III: Soresu - Moderate
Form IV: Ataru - Master
Form V: Shien/Djem So - Moderate
Form VI: Niman - Adept
Form VII: Juyo/Vaapad - Expert
Jar'Kai - Master
Trākata - Adept
Force PowersRank 1:
Force Sense, Telekinesis, Art of Movement, Force Sight, Force Push, Force Pull, Force Jump
Rank 2:
Breath Control, Precognition, Telepathy, Force Speed, Saber Throw, Detoxify Poison, Battlemind
Rank 3:
Force Body, Battle Precognition, Force Defend, Force Valor
Rank 4:
Center of Being